Ultimate Study Pack
The Ultimate Study Pack is here and is already being used by secondary schools around the world to provide quick and informative lessons on studying. Developed by the 'Study Queen' Karen Boyes and Educator, Megan Gallagher this pack has been designed for teachers to teach quick 10-15 minute lessons in form time, mentor time or life classes.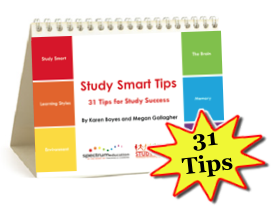 Study Smart Desk Top Flip Book
Designed to sit on your desk, this 31 tip book, has the study essentials summarised as a reminder for students.
Study Smart Tips: Teacher Guide and Student Activities
Each tip from the flip book, is expanded with teacher notes and student activities. Designed to be quick 10 minute lessons for form time, the beginning of a class, after school programmes or simply as revision at home. Booklets cover
Introduction to Study – starting with the basics
Learning Styles – tips for understanding your learning styles
Environment – simple ways to ensure your study environment is effective
The Brain – understanding brain friendly ways to study
Memory – exams are memory tests so improving your memory is important
Wellbeing – what is good for your body is good for your brain
161 pages of ideas, lesson plans, info-graphics and student black line masters.
These PDF booklets are supplied electronically and may be stored on your school server for all teachers to access.
Click here to view sample lessons
Exam Tips: Desk Flip Book & Teacher Guide and Student Activities
A flip book with 11 exam tips and strategies plus a teacher guide with student activities.
For more information and pricing please email the Spectrum Education team at info@spectrumeducation.com