Break a Leg!
"Break a leg!'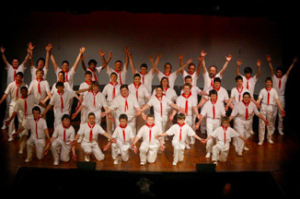 I said this to our 10 year old son, many years ago, before he was about to go on stage to perform and sing a solo in front of an audience of 300. He was horrified. He looks up at me with tears in his eyes and cried, "Why would you want me to break my leg?"
This was a phrase I had uttered to me for years growing up. I grew up on the stage, singing and acting. I had never questioned the phrase before – I just accepted it was one of those weird things adults say.
After I had reassured my son that I was wishing him no physical harm and it was a term meaning good luck for performers, I became curious and googled it.
There are several possible origins of this phrase and here is my favourite and my interpretation.
Live theatre has been around for centuries and the superstition of actors and performers meant that is was 'bad luck' to say 'good luck' before they went on stage. This was also a time when many performers were only paid if they actually performed.
At the end of the evening actors and actresses would perform a 'curtain call.' This was typically a line up at the front of the stage where they would bow and receive applause. This line was traditionally straight with everyone standing with their legs in a line – or in 'leg line.'
If the performance was not to the liking of the audience, they would throw rotten fruit and eggs to the actors and dancers. However, if it was a fantastic performance, the audience would show their appreciation by throwing flowers and more commonly money. Performers would have to 'break' the leg line to pick up the money and gifts.
Now, whenever I hear the phrase 'break a leg' I translate that in my head to, "May your performance be so great, people throw money."
PS: While writing this, I searched for photos of our son and found these – he was 10 when he was in his first Hutt Valley Gang Show. Now 19, I hope he doesn't see these – I'll be in trouble! I'll tell him the truth – it is a proud mother moment!

Tags: Break a leg, Karen Boyes, Karen Tui Boyes
Published on Friday, September 20th, 2019, under Personal
Karen Tui Boyes is a champion for Life Long Learning across nations, industries and organisations. Winner of the NZ Educator of the Year 2017 and 2014 and the NZ Speaker of the Year award in 2013 & 2019, Karen is a sought after speaker who continually gets rave reviews from audiences around the world. Her dynamic style and highly informative content—which turns the latest educational research into easy-to-implement strategies and techniques — sets her apart from others in her field.