My world feels like it has been rocked…
This week I heard the news of the apparent suicide of Robin Williams – this has totally rocked my world – I feel numb… (note I am still in denial with the word apparent.)
Robin William's outer persona reflected (to me anyway) a confident, intelligent, successful person who had his whole life together.
I guess the news has rocked me as it feels like a kind of mirror that is being held up in my face…
My initial reaction was to post this on FB:
Just heard about Robin Williams – I am numb – reading all the wonderful messages – I wonder what might have happened had he seen and heard these before today? Don't wait to tell people how wonderful they are… let them know today – please…
 Upon more reflection I reposted this…
I am rethinking my post about Robin Williams – sometimes when you are successful the pressure is greater to perform, be better and inspire all the time – the more people tell me how wonderful I am, the more I feel I will let them down if I am not fabulous. Brené Brown talks about vulnerability – when is this OK? Sometimes I feel that if I show emotions, break down, get angry, screw up etc, I am not the person everyone thinks I am. The pressure to perform is great… maybe what we need in this world is to be able to not be strong, be ok with the not so good stuff, the breakdown, the vulnerability…
So let me tell you about the real Karen Boyes…
I am highly energetic, passionate and possibly slightly zealous about quality education and ensuring children are becoming confident, caring, creative, life long learners. I am passionate about future focused practices for 21st Century learners, about ensuring our education system is preparing students for the real world, not just a life of tests and about authentic education, plus making a difference with professional and personal growth. Often I get so caught up in my work I forget to eat or sleep. My favourite colour is red – my kitchen, bedroom, bathroom, car and clothes are red. I have never owned red shoes – only black. My favourite food is cheesecake. I love rainbows and sunshine, anything that sparkles, candles, kayaking, snuggling by the fire and best of all hanging with my best friend Denny. I love feeling important and special. 
Here's the bit you don't know…
I have an addictive personality – I don't drink alcohol because I'm afraid if I start I won't stop. I eat the same food for lunch for about a year before I change to something new. I eat far too much sugar. I yell at my kids. Sometimes I just play Plants vs Zombies all night on the ipad, before that it was Candy Crush. I still worry that I disappoint my parents. I really do not like it when someone doesn't like me and hate people getting cross at me. I live in fear of upsetting someone. I like being in control (OK you might have known that!). I do not have enough money to pay myself this week. I can't put petrol in my car this week. I do the best with the gifts I have been given yet fear they are not enough.
Now I have written this it almost seems normal and maybe that is the point. The demons are actually self imposed, imaginary, although I fear they are real.
Here is another post on Facebook by Jeff Brown
Robin Williams is gone. Yet another whose gregarious social face did not reflect his inner world. We lose so many people everyday to unresolved pain that overwhelms their consciousness. Few are well-known. Most live anonymous lives. We must prioritize authentic revealing and emotional release in our world. We must slow down to see each other deeply and to share our inner worlds so that no one feels alone with their pain. There are so many of us here, yet so many suffer in isolation. We have to keep peeling the masks away. We have to keep sharing our truths. We have to.
Maybe I am my own worst enemy. Sometimes I wonder if my ability to think is a blessing or a curse. I over think, over process, over analyse…
I ponder the words from the song 'Dancing Through Life' in the musical Wicked …
Life is painless, for the brainless
Those who don't try, never look foolish…

That time to not think, not care, just to be… that is exactly why I do yoga, a moving meditation that helps keep me calm and centred. It is also why the Arts are so important as well as creativity, movement, laughter, connection, love…
I'm exhausted from the daily grind, being a pioneer, seeing others follow and copy, the constant keeping up and keeping ahead. I'm not complaining, I'm deeply passionate and committed to my work, and it is a lonely and often taxing journey.
We are bombarded everyday with people asking "how are you?" and not really caring about the reply. We have been conditioned to give a positive response, even if it is not true. What if we all started being real, being authentic and caring about each other – really truly deeply love… How might we teach children this? My best guess is to model it – be ok with the sad, lonely, angry and all the emotions and happenings…
Another friend re-posted this today… We are All One, until we realise that another's suffering is our suffering, the world will stay the same.
Yes it's about lifting the mask and letting people in. Like Brene Brown says – being vulnerable. Of course, ironically, I now fear that writing this will make me appear less strong, lose credibility and in turn be a less likely choice to be invited to inspire teachers, students and speak at conferences. But that is a risk I am willing  to take. This topic is far too important.
Perhaps if there was good to come out of Robin Williams death, it is this conversation. Maybe this was part of his bigger purpose for being on this planet… Please continue the conversation…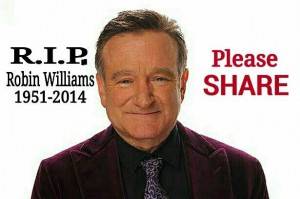 Tags: authenticity, being real, courage, vulnerability
Published on Wednesday, August 13th, 2014, under Life lessons, Personal
Karen Tui Boyes is a champion for Life Long Learning across nations, industries and organisations. Winner of the NZ Educator of the Year 2017 and 2014 and the NZ Speaker of the Year award in 2013 & 2019, Karen is a sought after speaker who continually gets rave reviews from audiences around the world. Her dynamic style and highly informative content—which turns the latest educational research into easy-to-implement strategies and techniques — sets her apart from others in her field.
24 Responses to "My world feels like it has been rocked…"