What will be your legacy?
It was only this last weekend that I became aware of a quote by Maya Angelou.
Maya Angelou sadly passed away today and suddenly I am surrounded by her wonderful quotes on several social media platforms. I'm not sure where I have been over the past few decades to not come across her work and philosophy as from what I have seen today the richness, grace and thoughtfulness of her ideas would have influenced me greatly.
Not that her work cannot influence me now …
This quote I particularly love –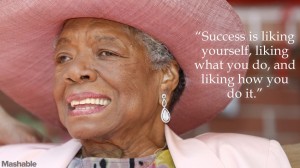 the understanding that courage underpins all other virtues. The ability and willingness to face up to our fears, pain, hurts and insecurities and in Dr Brene Brown's words – to confront our vulnerabilities.
I also strongly relate to the quote of Maya's "If I am not good to myself, how can I expect anyone else to be good to me?"  I believe that everything starts with ourselves. Taking the time to make yourself number one in your life is paramount. This does not mean being selfish, arrogant or greedy, it simply means that you treat yourself with the same respect that you treat others.. Eat healthy, exercise, take time for stillness, connect with loved ones daily, engage in activities that you love and reflect on progress each day. Dr Libby Weaver, writes about Rushing Woman Syndrome, the fact that many woman are juggling so many roles that their health and wellbeing are being affected. If we don't look after ourselves – who will? This adjustment can be overwhelming for some, as the urgency of children, partners, friends, family, work and other commitments can tend to take over. If you find this challenging, start with finding a few moments each day to stop, take a breath and do something nice for yourself.
As I reflect on Maya's amazing life journey ( the little I know from reading about her today), the people she has influenced and the opportunities she has created, I am in awe of someone who seems to have lived her truth. What a legacy to leave.
I am inspired by her idea that once you learn something, your job is to teach it – to help others fulfil their lives and purpose. Furthermore, that when we receive, we should also give – what a wonderful way to live your life – know that there is abundance in the world and that by sharing, you not only spread the abundance, your multiply it within yourself.
Each quote of Maya's I have read today has stirred up ideas, feelings and actions – and that is for me a true mark of a great leader and person – their legacy lives on… Although I only knew of you for 5 days before you passed, I know your legacy will continue to live on in my world forever Maya – thanks.
Tags: inspiration, legacy, Maya Angelou, quotes
Published on Thursday, May 29th, 2014, under Inspiration
Karen Tui Boyes is a champion for Life Long Learning across nations, industries and organisations. Winner of the NZ Educator of the Year 2017 and 2014 and the NZ Speaker of the Year award in 2013 & 2019, Karen is a sought after speaker who continually gets rave reviews from audiences around the world. Her dynamic style and highly informative content—which turns the latest educational research into easy-to-implement strategies and techniques — sets her apart from others in her field.
6 Responses to "What will be your legacy?"